About Starling Community Woodland Restoration
Life for a Life Memorial Forest are undertaking an ambitious project to plant 8000 new trees at Beacon Fell Country Park to restore Starling Wood.
In 2018 Starling Wood was devastated by the 'Beast from the East', with high winds and storms causing many of the trees that once stood there to either fall over or become unsafe. Sadly, the only course of action was to 'fell' the woodland, a process which cost thousands of pounds, limited public access to the country park and destroyed a home for nature..
Creating The Future For The Community And Nature
We need your help to plant 8000 new trees to restored Starling Wood, creating a bio-diverse woodland which will become a home for many species of birds and other wildlife as well a place of recreation for the local community. Beacon Fell has played in vital role during the pandemic as a place refuge and source of well-being for the huge numbers of visitors escaping confinement to enjoy the outdoors and our plan will create a resilient home for generations to come.
By helping us restore Starling Wood you will also be helping local charities who play a vital role within the surrounding communities who look after those who do not enjoy the best of health, as the project will go even further than just creating a new woodland. Your donations will allow us to raise funds for each of the health-related charities connected with the project.
This project is being delivered in partnership with Lancashire County Council and supported by The Lancashire Chamber of Commerce "Low Carbon" initiative. The key social and environmental objectives Life for a Life and our partners aim to deliver on are;
Social & Environmental Objectives
Reducing Climate Change
Harmful Carbon Dioxide (CO2) contributes to climate change. Trees, however, help fight it. They absorb CO2 removing it from the air and storing it in the ground whilst also producing and releasing oxygen, something we need to breath.
Preserving For Future Generations
The project aims to build up a management fund that will ensure the new woodland is protected and managed for years to come, avoiding the fate of the original Starling Wood.
Benefiting Local Charities
Once the target is met, the project will raise an additional donations that will be divided between 9 local Lancashire charities. During Covid-19 Hospices and Charities have suffered huge losses of income and support caused by the cancellation of event and projects. The funds raised by you supporting the Starling Community Woodland will help these charities continue their important work.
Why Not Gift A Tree?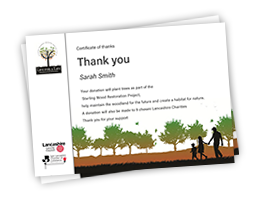 It could be a unique gift, a way to make someone's birthday special or mark an occasion such as an anniversary.
All you need to do is enter the donor's name on the donation page, and the name will appear on the certificate that will be emailed to you.
Giving Back
To achieve our goal of a woodland that will serve your community for years to come, we need the help! Individuals and businesses of any size can help support the creation of the new 'Starling Wood' and become part of a unique opportunity to make a positive contribution to the local environment and community.
Can you help by making a donation today?
How The Money Will Be Spent
How To Help And Donate
Our suggested donation of £25 will help plant and manage one tree within the woodland or
for a suggested donation of £200 we will help the planting and managenet ten trees.
Donations of any value towards the project are welcome and any surplus monies raised
will be shared between the 9 chosen charities and increase the donations made from the project
All donations will help achieve the projects key objectives.
Can you help by making a donation today?